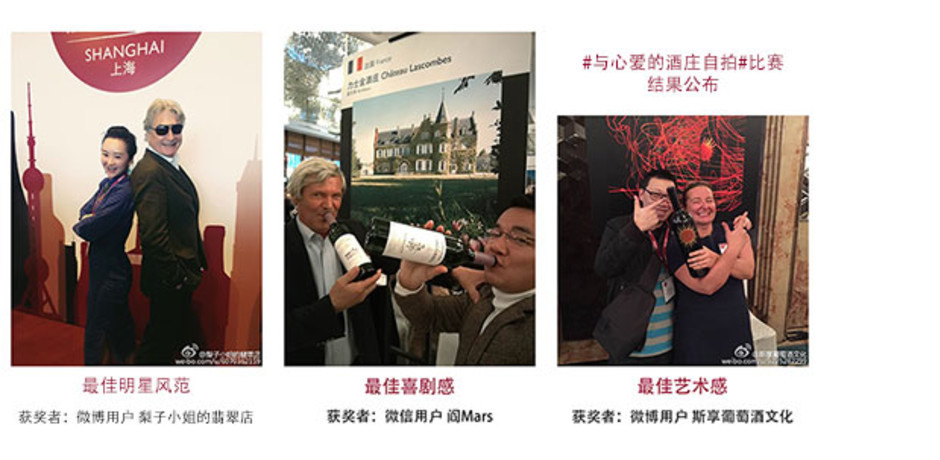 The sold-out event attracted more than 1,000 fine wine lovers in China to participate the extraordinary one-day tasting and meet their favourite winemakers from a variety of countries and wine regions, including France, Australia, the US, Canada, New Zealand, Spain, Italy, Chile and Argentina.
There was significant social media interaction on the day, as guests shared the highlights of the days with selfies, videos and more, engaging with the event's official WeChat account and DecanterChina.com's recently launched WeChat account.
The photo of Weibo user 'Lizi Xiaojie de Feicui Dian' with Christophe Salin, President & CEO of Domaines Barons de Rothschild (Lafite), in a back-to-back posture won the Most Glamorous Award.
The Most Humorous Award was taken by WeChat user 'Yan Mars' for his amusing selfie with Dominique Befve, managing director of Bordeaux Second Growth producer Château Lascombes.
The Most Creative Award went to Weibo user 'Sixiang Wine Culture', for his photo at the stand of Luce della Vite, with the winery's Asia-Pacific area manager Erika Ribaldi.
The winners will each receive a pair of Grand Tasting All-day tickets at the 2017 Decanter Shanghai Fine Wine Encounter, which will be held on 18 November 2017 at the Ritz-Carlton Shanghai, Pudong.